Click on the tabs of the screen image below to see help for that specific page.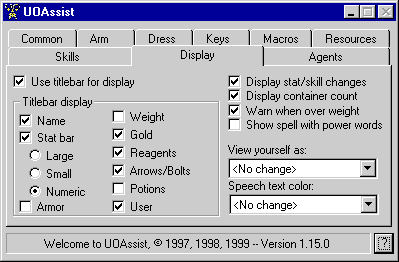 The Display Page
If you check the 'Use titlebar for display' and are running UO in windowed mode UOAssist can display information for you on the titlebar.
The options in the 'Titlebar display' box are the many things you can select to have displayed for you. Pick any combination that helps you see the information you want quickly.
When you turn on 'Display stat/skill changes' UOAssist will put a message on the screen letting you know when a stat or skill changes. This will be recorded in your journal and log file if you have that turned on as well.
Display container count lets you know how many items are in any container you open so you know when you are approaching the item limit the servers set.
Warn when over weight does just that, it displays a message letting you know you are carrying more than you should.
Show spell with power words - when enabled and UOAssist 'sees' power words it will put the spell name for those power words after the power words.
The view yourself as option allows you to change your appearance on your game screen only. Others around you still see you as you normally appear. When you select this option the server resends the data for all items/people/creatures around you so this may cause you to 'lag' for a bit. So be careful when you switch appearances if you are having any lag problems. Also some of the selections don't contain all combat/gesture animations so fighting,
The Speech text color option is used to make it easier to read peoples speech and system messages. Most all text displayed with be in the color you select. An exception is the name of the person, this will remain in the color it was originally so you can see blue, red, gray ... colored names easily and tell the status of the character using the color.
---