Click on the tabs of the screen image below to see help for that specific page.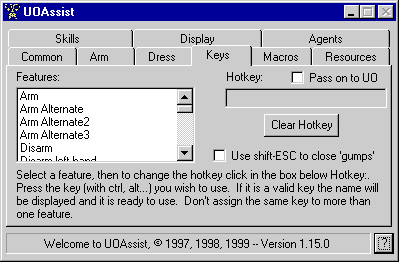 The Keys Page
This screen allows you to set the keys that activate the features of UOAssist. Also it can remind/teach you of the names of the features and the keys that currently activate them. First select a feature from the features list and the current key setup will be displayed. If you wish to change the key click in the Hotkey box, then press the key (or key combo like alt-F1) desired. If you pressed a valid key its description will appear in the box. If you check the Pass on to UO box after UOAssist looks at the key it will pass it on to Ultima Online for processing. Its usefulness has yet to be seen but the option is there if needed. When a feature is selected, pressing the Clear Key button will as named. If you assign the same key to more than one feature only one of the features will be executed. Currently UOAssist doesn't check if a key is assigned to more than one function so beware.
The Use shift-ESC to close 'gumps' isn't much help now that you can change the close gumps feature in UO to whatever key you'd like. For this feature to work you'd have to set UO to use ESC to close gumps.
Features only accessible via hot-keys:
Packet Pusher: This feature can be (but isn't always) helpful if you are experiencing a lot of packet loss. If your movement is frozen in Ultima Online for a few seconds try using Packet Pusher to help prod you into movement again. This feature will not reduce packet loss overall but can be helpful.
Last Target: If you want to target an object or location that use have just previously targeted you may find this helpful. To use Last Target you must wait until the target cursor appears, then press your hotkey.
Target self: If you want to target yourself use this feature (default key is HOME). To use Target-self you must wait until the target cursor appears, then press your hotkey.
Cancel last spell (default hot key is Pause/Break): Use it when you get that nasty bug 'You are already casting a spell' message. It will cancel that spell for you so you can cast again
Show incoming toggle (default: PageUp): Toggles show incoming on/off. Useful to help reduce lag in areas with many people/creatures.
Display Reagent Count (default: Shift NumLock): Press this and the current count of resources will be displayed on the game screen.
Use item in hand (default: Shift-F12): This feature will attempt to use an item held in the characters right hand. If no item is in the right hand the item in the left hand will be used if found.
NOTE: Last target and target self bypass notoriety query so be careful with them.
---